A while back, out of over-enthusiasm, I decided to upgrade my PayPal account to business. Well, kids, I tell you this. Don't get too excited about something unless you have carefully planned for it and you know you have ample time in your hands to carry out that vision, okay? So long story short, do not be like me. 😀 So, since I don't want to be reminded of that foolishness any more and since I won't be selling anything on a daily basis, I requested my PayPal account to be downgraded to Premier. What did I do? Fairly easy. Here's what you need to do:
:star: Log in to your PayPal account.
:star: At the bottom of the home screen, there's a Contact Us link. Click it.
:star: At the landing page under Email us, click Send us a question by email.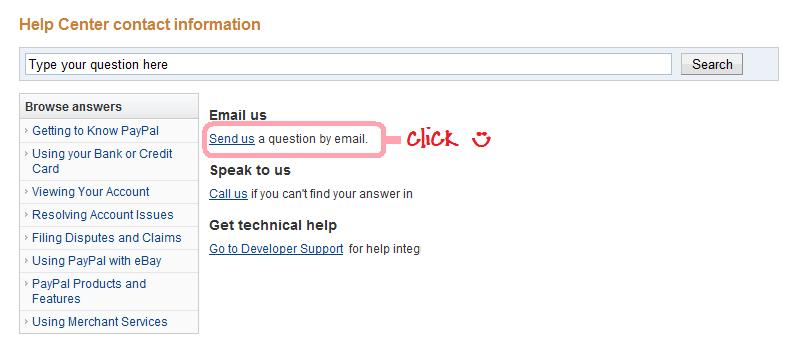 :star: Select My Account –> Changing Account Type.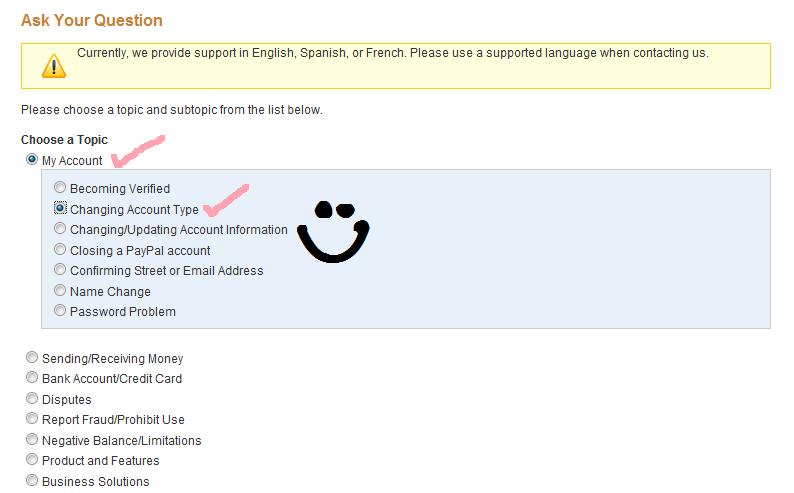 :star: Summarize what you want done with your account. In this case, to downgrade it.

:star: Select "I want to downgrade my account type" then click continue.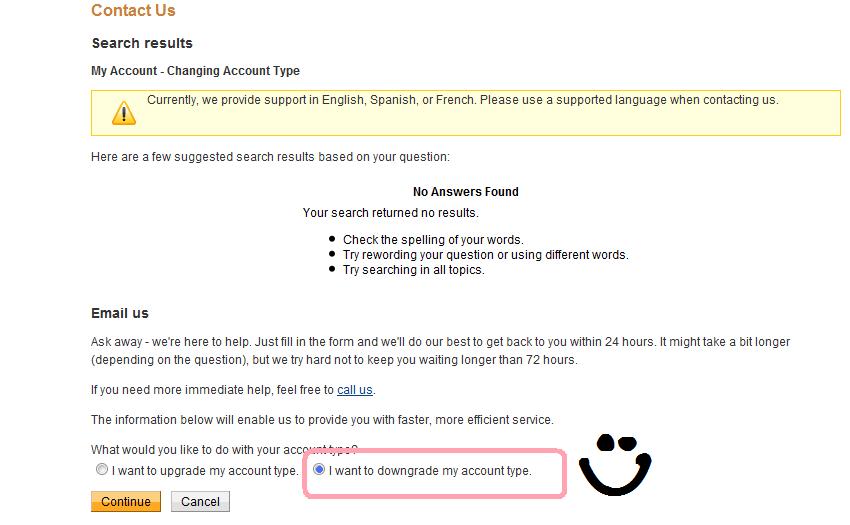 :star: Proceed to the page where you have to input additional details of your request.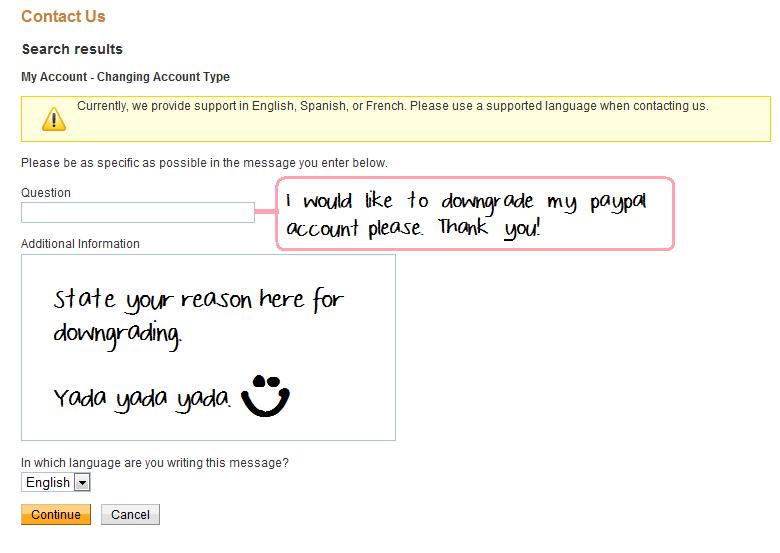 :star: Sit back and wait for confirmation from PayPal. 😎
In my case, the confirmation came less than 24 hours after I sent the request. You gotta love their customer service:
Thank you for contacting PayPal, my name is Dayna. Good news, I just went ahead and downgraded your account Premier. All of your business information were already been removed. I'll be glad to hear from you if you need clarification, please email us again and we will try our best to give you immediate answers. Thank you for choosing PayPal for your online payment needs. We appreciate your business.
And here's my account now:

And no. That's not really Your Majesty that's in there. :tongue:
So what's the difference between the three PayPal account types, you say? Well, as far as my understanding can take me (which is not very far, I warn you :tongue: ), if you only buy stuff online, then a Personal PayPal account is perfect for you. If you work online and receive your wages, commissions and whatnots through PayPal, then having a Premier PayPal account is best. However, if you want to sell stuff online (meaning you expect to receive payments from buyers on constantly), then a Business PayPal account is in order. Clear enough? Good. 🙂