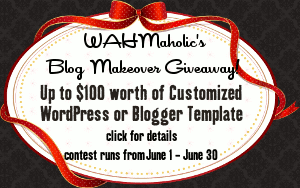 THIS CONTEST IS OFFICIALLY CLOSED
As promised, the blog makeover raffle will be a monthly thing from now on (or for as long as I can host one. :tongue: ). However, the mechanics will vary so that this raffle will not grow old. I actually have something quite different planned for July, but since it's just June, that will have to wait another month. :haha: So anyways, here is what's up for grab for the sake of those who will join for the first time:
custom header and footer
custom background
custom favicon
custom navigation bar
custom post footer (for Blogger)
fancy post title font
125×125 button/badge
personalized signature
fancy comment section
layout style of winner's choice
and anything else that will make the makeover fab :wink2:
And here are the mechanics for this month and how you can gain raffle entries and qualify:
For your blog/s to qualify, it/they should be AT LEAST TWO MONTHS OLD with AT LEAST 20 POSTS.
I like exposure, so put this badge on your sidebar. Just grab the code below (1 entry per blog sidebar you put my badge in):
I like being stalked, so become a follower of my blogs below (1 entry per blog followed):
I like back links, too, so blog about this contest in your blog/s with the theme WHY I DESERVE/NEED A BLOG MAKEOVER. Just make sure to copy and paste the following code BEFORE your post (1 entry per blog post):
After you've finished with the above, CLICK HERE to record your raffle entries.
Other contest details:
The winner will be RANDOMLY selected

. So more entries means more chances of winning.
MULTIPLE BLOGS ARE ALLOWED per contestant.
Contest runs from June 1 – June 30, 2010.
I will personally install the template myself two weeks after the announcement of the lucky raffle winner.
If you have done some of the mechanics above last month, then you won't have to do them again (i.e., follow my blogs and/or grab my sparkly 125×125 button on your sidebar). However, you still HAVE TO RECORD YOUR ENTRIES on the Google Doc form above (last item of the mechanics) for me to count your last month's entries again. It's a couple of lines so that shouldn't be so hard for anyone. Ready? Try your luck! You might win the makeover this month 😉